---
15 February
The Re-designed Sidekick!
One consistent piece of feedback we received from our Beta- testers was that the Sidekick design needed rework to accommodate improvements. In this update I'll take you through the feedback, and how we have incorporated it in our redesign.
SIZE, SHAPE AND COLOR:
"the unit is large and not "stealth" enough to leave on a commuter bike."
We've reduced the size of Sidekick to occupy the smallest possible area on your handlebar, while still giving you a large enough area to press buttons. We've simplified the design to include large visible L and R buttons on the front face.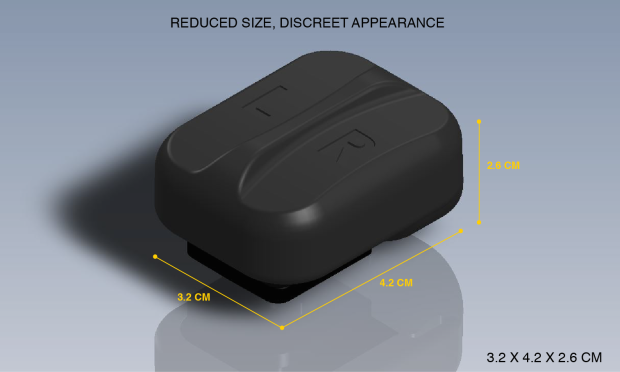 BUTTON FEEDBACK:
"i cannot feel the "click" when i press it"
"using it with gloves is quite tricky"
We built a 'wall' (ok, it's just a ridge) between the L and R button, that allows you to find the button in the dark. It also keeps you from pressing both buttons simultaneously.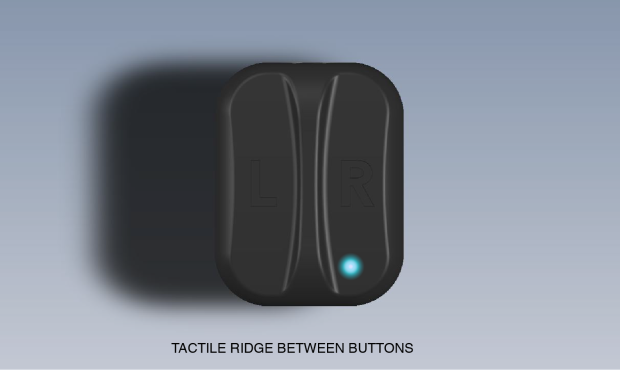 VISUAL FEEDBACK:
"Lights on sidekick, particularly the green light is very tricky to see"
We changed to 3x brighter leds that consume less power as well, the watery green led is now a powerful blue, and most importantly, we've removed the visual distraction of a yellow casing to a matte black.The black tint allows the LEDs to shine through when switched on, and appear invisible when off.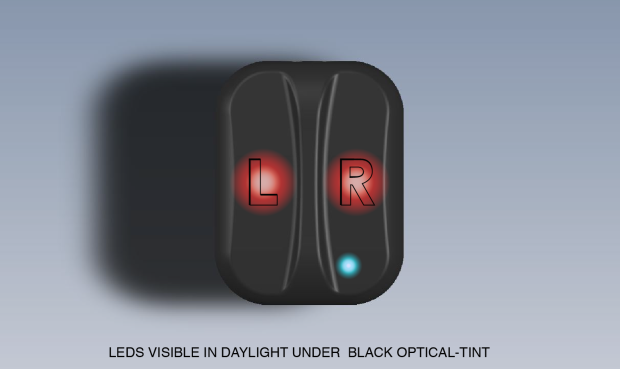 MATERIAL CHOICES:
"that the rubber gets very stiff in the cold. It's very hard to know if I pressed the button or not"
"The problems with the sidekick started after it was on my bike outdoors for a week in the wet and cold"
We've switched to from a PVC casing to Silicone Rubber, which handles extreme temperatures and is used in both baking molds and ice-trays. The entire shell is encased in a single layer of Silicone Rubber, improving waterproofing.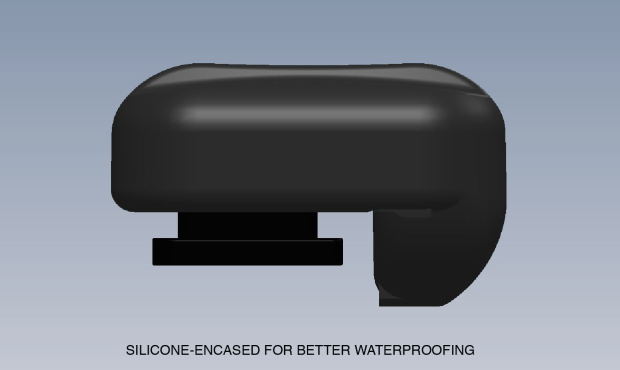 BATTERY CHANGES:
"…process of inserting the battery is very cumbersome"
We've made the Battery easily accessible by drawing back the rubber cap protecting it and pinching it out.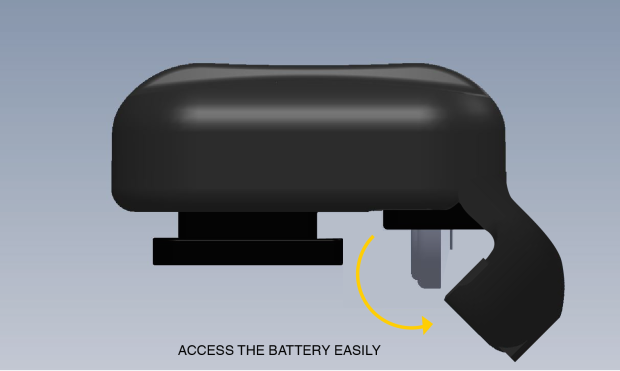 MOUNTING MECHANISM:
"Not being able to swap the sidekick between bikes is a huge drawback as I routinely swap between two bikes…"
We've changed the mounting mechanism to a quick release, which means that you can leave the clamp on the bike and pluck your Sidekick off. The clamp itself is a rubberized zip-tie style mount, allowing you to use it across different handlebar sizes.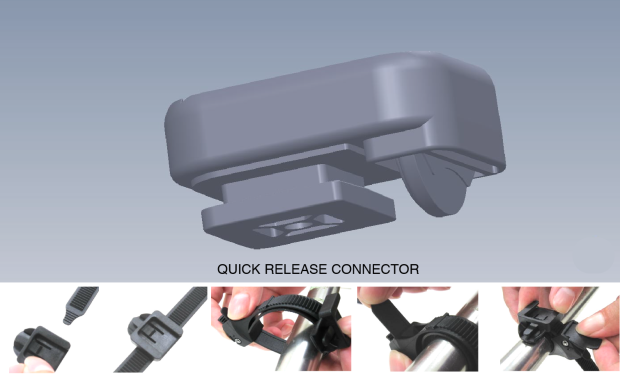 You can see a rendering of the Sidekick here – https://youtu.be/qpBNx6V5Yk8.
In our next update, we talk about how our beta testers have been using their backpacks, and their opinions about how Aster could evolve.
---
14 days ago
Introducing Crash Detection and alert! 
We are happy to announce an exciting new feature that would be a part of all Asters! Our current hardware has been built to know when you brake, and using the same hardware we are now building the algorithm to detect when you have a crash.
How will it work?
Sidekick sits on the handlebar of your cycle and when you have a high-impact crash, it will trigger a buzzer on your phone, asking you 'Are you OK?'. If you cannot respond (via app or Sidekick) within a configurable time, the App will message your coordinates to your emergency contact.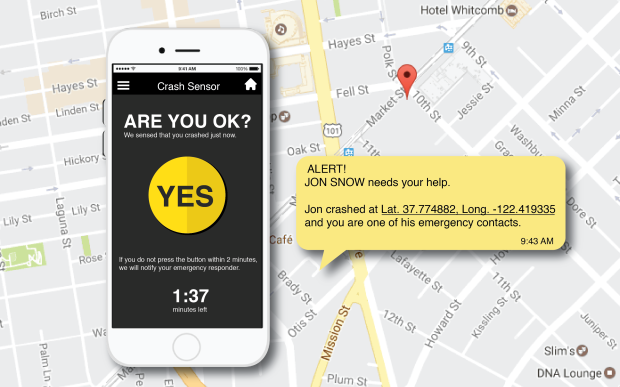 Why? 
Through Aster, we address most of the major reasons for accidents at night by improving your visibility, predictability, and improving communication with motorists. However, if due to an unforeseen situation, such as a hidden pothole, or a zombie attack, you DO crash, we want to be able to do something to help you. This is where being able to sense a crash and alert an emergency contact comes in handy.
A lot of our backers have bought Aster for their cyclist buddies/loved ones because they are concerned about them riding alone on dark streets. Through conversations with some of them, we became convinced that having a crash-alert system will go a long way toward assuaging these concerns.
Accuracy is key!
Accuracy matters here and means the difference between a life-saving feature, and an annoyance. We are allowing the user to set the feature on or off based on their individual preference. Also the user can configure the amount of time to respond between crashing and an alert going out. Thirdly, the algorithm will be able to between a real crash and a false alarm to fine-tune its sensitivity levels over time.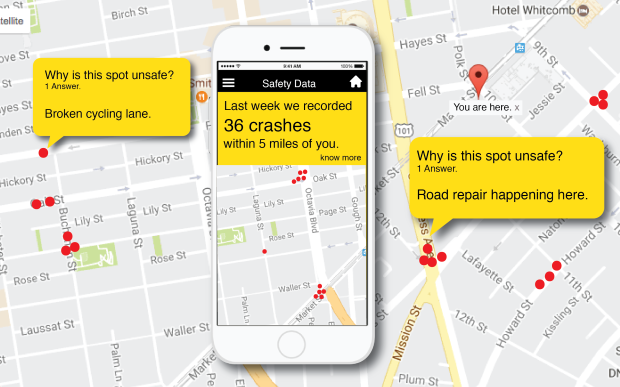 We would love to build this feature with you. Have you had a scrape or accident, would this feature have been useful at the time? What tweaks would you like to see in this feature? We will be sending out a brief survey to help us understand your opinions about this feature and what you would want the app to do!
---
22 days ago
We've crossed 100,000 USD on Indiegogo!
A BIG FAT thank you to all you backers who have helped us reach this milestone. You guys have been incredibly patient and supportive throughout the development, and beta-testing process and we are sincerely grateful for this collaboration.
Where are we on production?
We have been preparing for our first production run of 1000 units and we are close to reaching that number in terms of pre-orders. So, all of you will get your Asters from the first production lot!  We've revised both the electronics and the bag to incorporate valuable Beta feedback, reduce potential failure-points, and simplify the manufacturing processes. We've signed our production deals and component sourcing is underway. We are now refining the testing and quality check processes. The first version of the App is now stable for all Android and iOS versions and now we are designing additional functionality for the final app. Sidekick's casing is still undergoing redesign and we will walk you through the improvements in the next update.
Since we are already hitting 1000 Aster units for production from the contributions so far,for all contributions we receive on or after 2nd February(2017), we will be doing a 2nd production run starting March.
Meanwhile, our product team has been working on an exciting new feature addition to Aster. So, look forward to our announcement in a few days!
---
23 January
First of all, wish you all a very happy new year! As you know, our Beta backers have now had the Aster backpacks for 1-2 months now. Our Beta backers have been absolutely amazing and have poured hours into testing and giving us valuable feedback! The Aster beta was tested across 18 countries, covering a range of conditions (snow, rain, heat, dust, humid) and temperatures (from -2 to 40 degrees Celsius). Below is a brief unboxing video, so you can see what was shipped to Beta backers:
(The lights are brighter than they appear on our Smartphone cameras; as beta backers will agree)
Based on the beta feedback, the following are the changes:
We are re-designing Sidekick to meet the following objectives:
Improve the LEDs visibility during day-time
Improve the button feedback, especially with winter gloves
Make the Sidekick smaller
Change the clamping mechanism to a Quick-release one
We are making small modifications to the Aster Backpack including the following:
Make Chest strap shorter and waist strap longer
Make the shoe-cover an independent unit
Change in the back padding (to reduce wonkiness)
On the lights front, we are improving the following:
Raising the position of rear lights slightly to make it visible across wider range of riding positions.
There are a few smaller tweaks we are making to Aster and Sidekick in terms of measurements. Most Beta backers were very happy with the brightness of the lights, accuracy of brake-detection, indicators, and the backpack organization.
Update on time-lines
The Aster doesn't involve many changes and the production has already started. However, the Sidekick is being re-designed and will cause a delay. We will share the new designs once they are ready – we expect to have rough sketches by end of Jan. Following that, we expect about 6 weeks to make Moulds and manufacture the final Sidekick units. Hence, we expect production of Sidekicks to complete in March. We are sorry for the delay, but the beta backers strongly felt a need for a better Sidekick design. We will find a way to add in some features to make up for the delay – do give us a few weeks before we announce what that might be!
---
December
Hi All,
We started shipping beta backpacks last month and Beta feedback has been pouring in! Most of the feedback shows that the overall experience was positive. We'll share an unabridged list of these next week. However, we'd like to share some of the feedback that is making for interesting debates.
The Detachable Shoe Bag:
This is a polyester drawstring bag that is velcro-ed to the bottom insides of the bag, and it allows one to unzip the bottom of the bag and use it to hold muddy shoes and other less-than-clean items. Since it is detachable, it can be machine washed if required.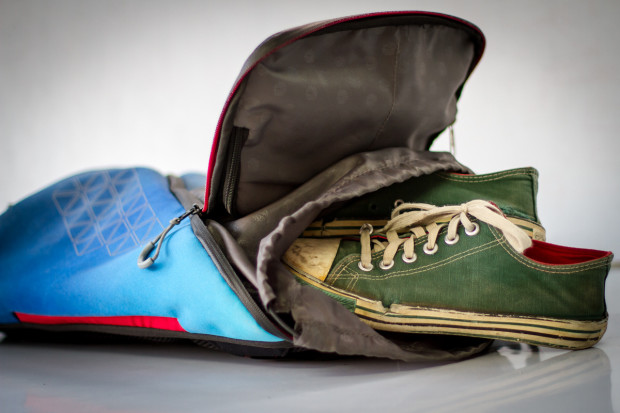 What do backers think of it?
A significant chunk of the Beta testers wrote to us saying that, while they love the idea of a detachable shoe bag, it seems like a lot of fuss and velcro to remove and reattach the shoe bag each time they want to use it. They have requested a re-design to make this more user-friendly, and we are on the job!
Sidekick Clamping Mechanism:
Sidekick is (currently) designed to attach to the handlebar with 2 screws and a rubberised clamp. It requires 3-5 minutes to attach Sidekick to the handlebar. Once attached, it is meant to be left on and any efforts to tamper with it set off the theft alarm.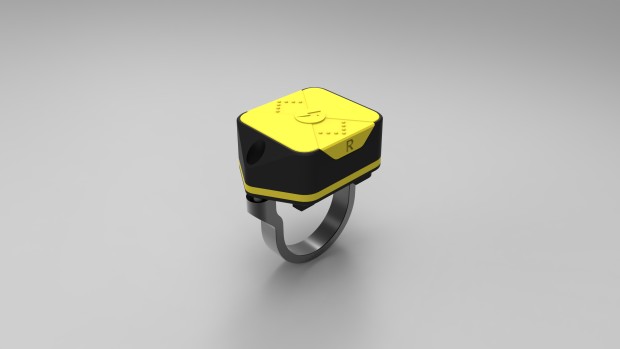 What do backers think of it?
A large number of Beta backers have strongly urged us to make the Sidekick easy-to-attach/remove, even if it means compromising the anti-theft feature (they found this to be a less useful feature). Also, there are backers who use bike-sharing and rentals to commute and for them the convenience of having the lights on a bag is offset by the pain of attaching/ detaching Sidekick.
What are we going to do about it?
We are still figuring out the potential ramifications of switching to quick-release clamp, but are now leaning heavily in favour of it. Do weigh in, if you have an opinion on how this will affect the way you would use Sidekick.
Other interesting insights from the Beta Lot:
During the beta, we discovered a significant defect rate in one of our components (almost 50% failure) and we are currently looking at whether it was a faulty assembly process or faulty component itself. Just that one error alone justified doing a beta lot compared to manufacturing the final lot right away.
Manufacturing of the final lot
Three activities will begin in parallel now: Electronics manufacturing, Backpack manufacturing and Sidekick casing redesign+manufacturing. We are starting these now.
---
Early November
The Beta backpacks are ready and shipping
Beta backpacks and sidekicks are all set and we have started shipping. We will shortly start to collect feedback on the backpacks, the sidekick, indicators, brake lights and other features. in this week and next, we will start collecting feedback on the app once it is ready as well.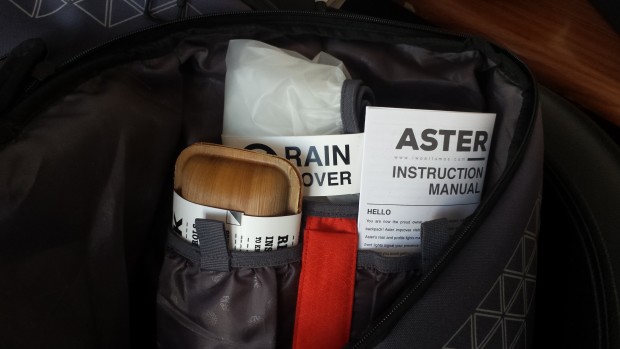 The first set of beta backers must should have received an email notification from DHL already! Rest of you beta backers (who have confirmed your address) would get your notifications from DHL this week!
The app gets delayed due to last minute firmware changes
As we started testing our Beta backpacks, we had to make some changes in our firmware, which in turn resulted in needing a rework in the app. Since the product team focused on stabilizing the beta backpacks firmware before shipping, we couldn't focus on the changes needed in the app. As a result, the app is delayed by 2 weeks. Though we should get a good working version this week, it would take another week of fine-tuning and then uploading on the app store! However, even without the app, you can turn on/off bag lights, work the indicators and brake lights with the sidekick already. Brightness configuration and theft alarm features will work better once the app is ready.
The invoicing
Every product shipped must be accompanied by an invoice with a value. So, we have to convert your backing into an invoice value of the same amount. We are classifying about 35% of it as "Product Cost", 35% of it as "App development charges" and 30% of it as "Warranty costs". Hence, only the product invoice gets shipped with the backpack and the customs works appropriately. We found this to be the safest way to reduce any potential customs burden while still being correct on paper.
Local testing and final lot preparation
As we wrap up our beta shipping, our team will start focusing on the final production lot. We will share the changes as and when we receive the feedback from Beta backers and from our testing!
---
Mid-October
A quick update.
Beta Shipping status:
We are currently checking each Beta Backpack and are expecting to ship towards the end of this week. We had a delay getting our packaging boxes but we expect it all to come in before end of this week. We have tied up with DHL for Beta backpacks, and in our trial shipment, the backpack reached within 3 working days. Once the Beta's ship out, we'll also make a video of the Beta Aster for all of you.
For Christmas Gift:
Thanks to feedback from one of our backers, we have also made a Gift Card (as below).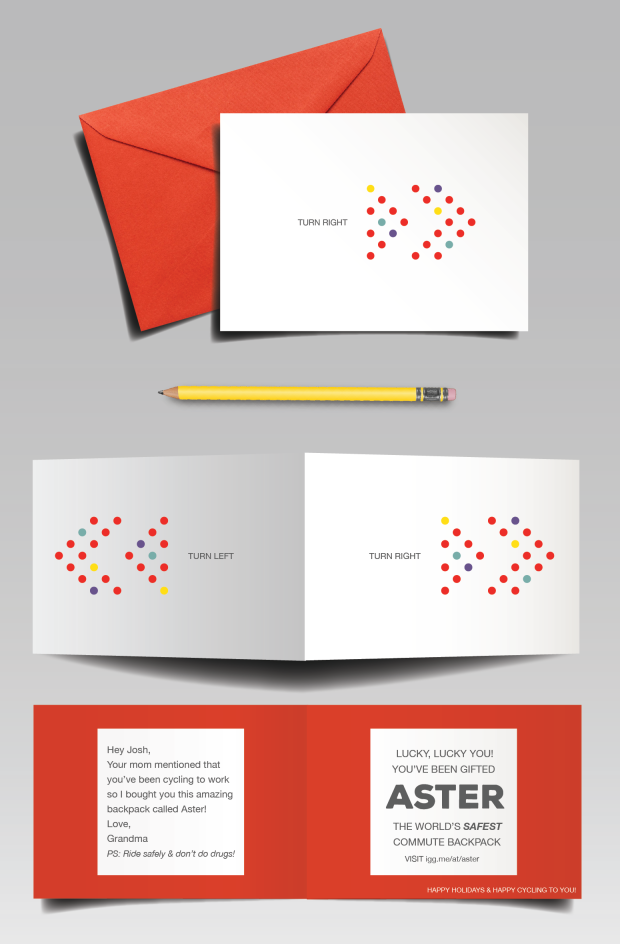 If any of you have backed us with the intention of gifting the Aster for Christmas, and are affected by the delay, you can gift a personalized card! The card is entirely free – just inform us and we'll ship it to you within a week!
The Beta Feedback being sought:
You can find the feedback we are seeking from our Beta backers at https://goo.gl/JHd6qa. If you have any suggestions on it, do tell us!
---
The Beta backpacks arrived 3 days ago and they look good! We are checking all the backpacks now and then we commence the final process of attaching the Electronics and checking them as well. Around Nov-5, we will send out mails to all our Beta backers confirming their address. We will also send out a feedback form containing the information we would request from them before proceeding with the final manufacturing to reduce the gap between Beta and final manufacturing.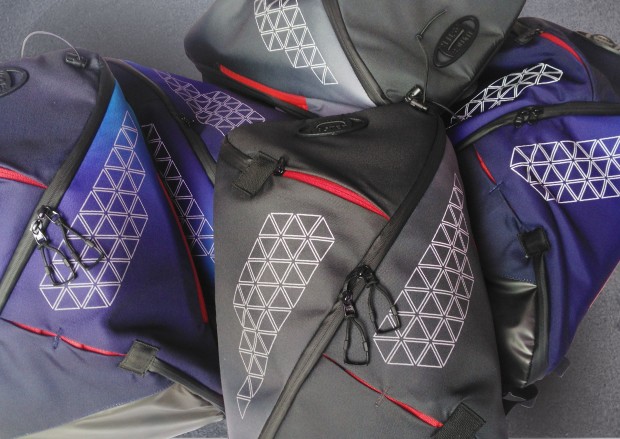 Thank you for your patience! We'll probably share another update this week with a Video of the Beta backpack in its full glory!
---
End September
It is time for an update on our progress. We expect to have all the backpacks with us by end of October, following which we test them for 2 weeks. We are currently looking at shipping them out to Beta customers by Nov-15.
Backpack Manufacturing:
The manufacturing is progressing well, with the final stitching and rain-cover stitching left. However, we expect to have the backpacks + rain-cover with us by end of next week! We did make one change following backer feedback to Aster – we added a mesh to improve airflow and reduce sweating.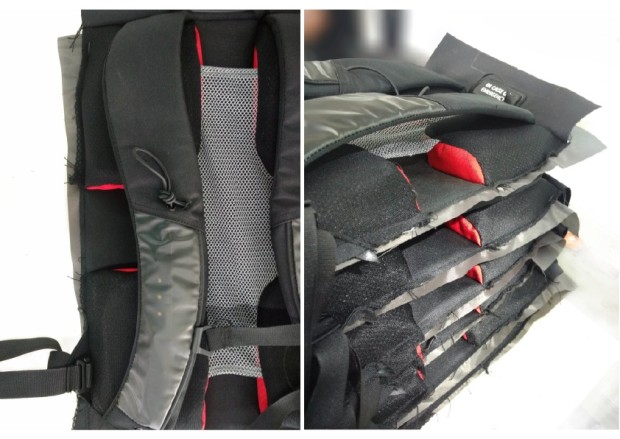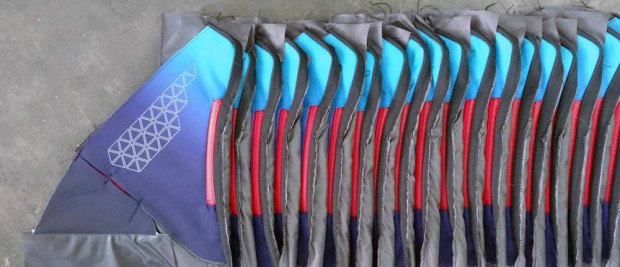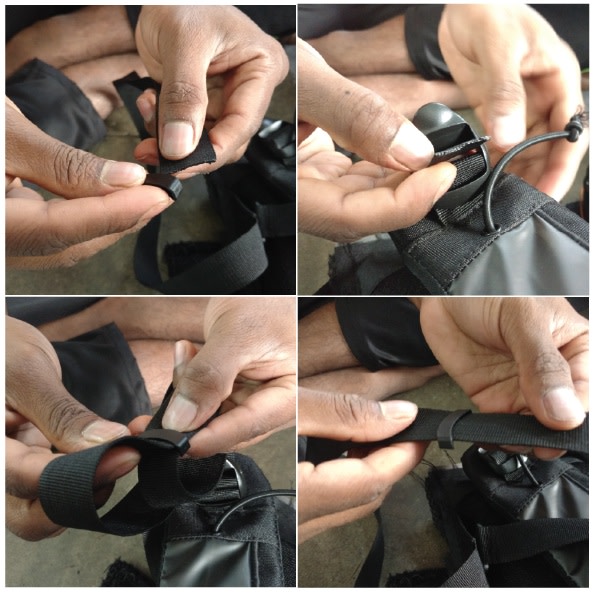 I will share an update with the final backpack photos next week as well!
Aster PCB manufacturing:
Our final round of testing is complete and everything seems to be working well! We will give the order for manufacturing of PCBs this week. Since there is no additional engineering work involved, we expect this to be quick as well!
Sidekick manufacturing and tooling:
The Sidekick tooling and manufacturing is nearing completion as well and expected to be in our hands by the end of October. We have been testing the 3D printed prototypes with some of our local backers, and the design has held up quite well!
Brake detection and anti-theft alarm:
The brake detection and anti-theft have stabilized for now with strong positive feedback coming from our local backers, who tested the unit. We will test is some more over the next month, to find corner cases, if any.
Firmware:
This is our major focus in the time leading up to the Beta backpacks being shipped. The firmware is the software that controls all the electronics and can make a huge difference to the product's performance.
All in all, it is just a matter of getting the final assembled pieces, testing them and sending them out! Meanwhile, we wrote a small blog piece on some of the research behind Aster – do check out http://www.iwearlumos.com/the-research-behind-a… . We also wrote about the our research on reflectors at http://www.iwearlumos.com/how-effective-are-ref… . We would love to hear your views about the above articles.
---
September 16
Hi,
The manufacturing of Betas starts!  
The good news it that our backpack factory has started the manufacturing of the Beta Lot. The manufacturing of the Beta lot would take about 30 days. Minor modifications were made to Sidekick design following some stress testing. The manufacturing of Sidekick (including making of mould) has started as well and takes about 5 weeks. The only item pending for manufacturing are the PCBs of the main lights board, which should go into manufacturing in October . All, in all, we are looking at a delivery of Betas in early November.
High Lead time Raw Material ordered for the final lot
For the final lot, we have ordered all the high-lead time raw material. The manufacturing time for the final lot is 30 days as well. If the feedback from Beta units dont come back with any major changes (minor changes are easy to accommodate), the final lot will be manufactured in December. We are field testing extensively right now to make sure Betas work well in all conditions – so the chances are good that the final lot will still be manufactured and ready in December.
Brake detection gets refined across road types
This last week, we have been testing our brake detection with many of our local backers, and have made changes to algorithm based on that feedback. Over the coming 2 weeks, we will continue to test our algorithm with our local backers on multiple types of roads (cement/tar/cobbled/mud). Please note that Aster's firmware is remotely upgrade-able and hence, all backers would benefit from any improvements in our algorithm even after delivery.
The next one month is going to be exciting! Thank you again for your contributions and for being part of our Journey. 
---
September 16
Hi all,
Bag:
The bag fabric is printed and coated, and is now being shipped to our bag manufacturer's factory! Here are some photos of the printed gradient colors- hot off the printer!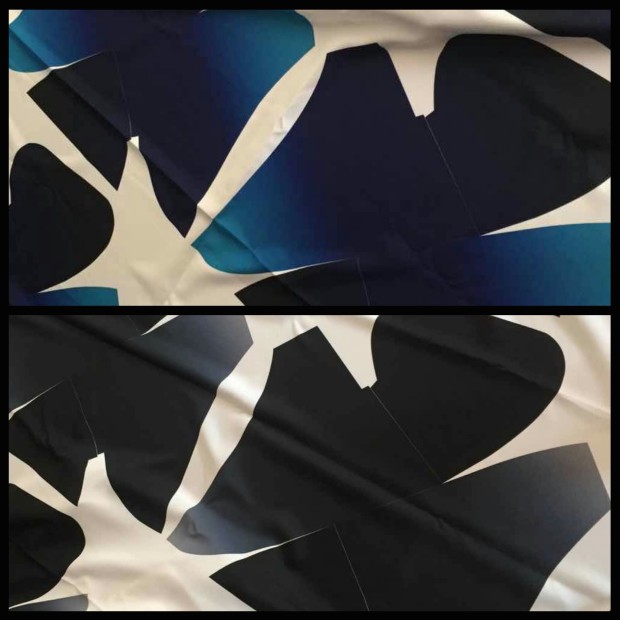 Next Steps: 100% fabric quality check> pattern cutting> printing the geometric reflective print> Sew, sew, sew!
Hardware Design and manufacturing:
The PCB had to be redesigned based on feedback from our Bluetooth component manufacturer. This was done to make sure that Sidekick's enclosure doesn't interfere with the Bluetooth signal. The modified PCB design is going for manufacturing today.
The Sidekick Industrial design:
The 3D printed prototype of the Sidekick is in-house (photos attached). We are testing the fit across different types of handlebars, ease of access across different riding positions and types of bikes, the sensitivity of the buttons, ease of finding buttons in the dark, visibility of left- right indicator arrow LEDs in the dark, and ease of changing the battery.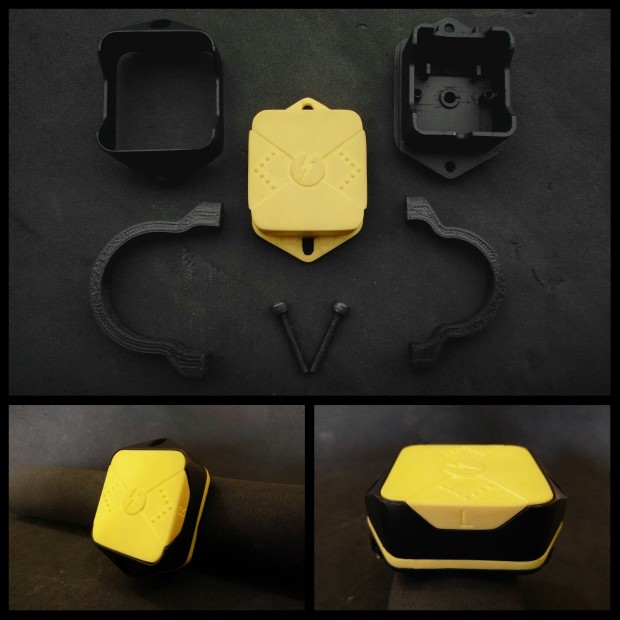 Next Steps: User-testing> design and dimension tweaks, if required> making Silicone moulds> produce ~50 cast-urethane Beta Sidekicks.
Brake Detection and Anti-theft Alarm:
We are currently fine tuning both the algorithms, i) automatic braking detection and ii) motion alarm for parked bicycle, by exhaustive data collection for relevant scenarios.
We are asking folks to try to steal a parked bike, and are updating the motion alert algorithm to account for every scenario. We are collecting data of brakes applied at different intensities and with different durations, over uphills and downhills, and on different varieties of bikes, on different types of roads, in different weather conditions… and so on… to turn on those brake lights exactly when they must.
---
August 16
Bag Fabric and trims:
80% of the raw materials for the backpack are in-house. In the two weeks, all the parts have undergone 100% quality inspection- which means, counting, quality and consistency checking.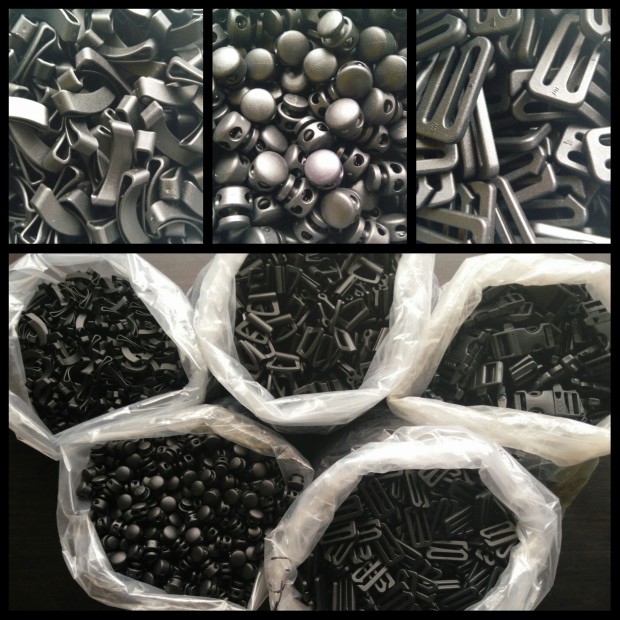 Previously we had mentioned that there was a fabric absorbency issue with the print. We've now changed printers and solved the issue and the fabric is now undergoing printing and coating processes.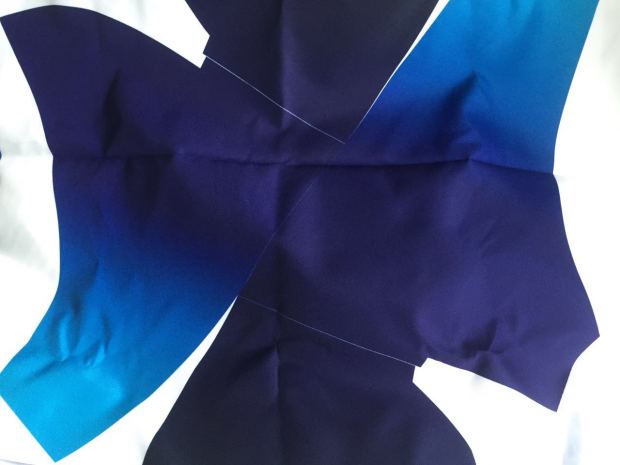 Hardware Design and manufacturing:
We have 5 main circuits (PCBs) in Aster: Main Lights unit, the Front-lights, the Profile lights, Sidekick and the battery pack.
The PCBs have arrived and has undergone rigorous testing and debugging. You can take a look at the photo of the rear light and indicator PCB below.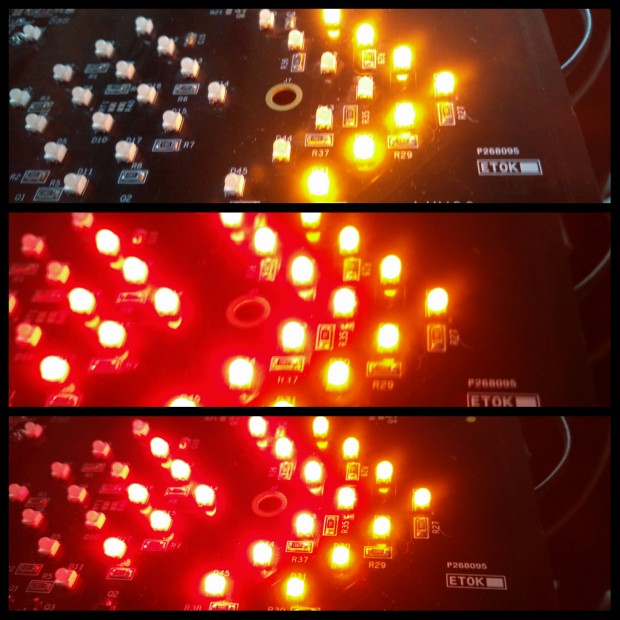 The strap and profile light PCBs go into Beta production on 8th August, Monday. The Main PCB required some re-routing of the conductive traces, but will also go into production within a week.
Sidekick PCB design has been re-designed and is under review by external PCB design agency to eliminate glitches and errors. A sample PCB will be made once this is done, by 16 August.
Industrial Design and manufacturing
The Industrial design has moved forward significantly. We will share the current design this week.  Structurally, the final design for the Sidekick is in place, Over the course of the next two weeks we will be testing 3D printed models, to establish ease of use.
Here are some of the key changes since the last update.
We've met the target size of the device, although its been a tight squeeze and a real challenge in PCB design. We are using a double-screw and clamp mechanism along with rubber grippers of assorted thicknesses to account for different handlebar sizes, shapes and positioning. We've also improved the waterproofing by sealing all critical points with pressurised rubber tubing.
Sidekick's aesthetics will now be refined and we expect to conclude this over the next two weeks as well. In the near term, this is the source of delay. We expect the Betas to be ready by the end of September. We are doing some intense testing of all our components (e.g. Brake testing, indication connection) to make sure that the Beta is perfect. This will reduce the gap between the Beta and the final version. We will still wait for reviews from our Beta customers, before we proceed with final manufacturing.
---
July 16
[Update Part-2 of 2]
Industrial Design and manufacturing
Currently, we are evaluating multiple designs that accommodate the Coin cell (CR2032) and 2 swiches and still fit the width below 40mm. The below model is for layout to understand how the components fit together and the aesthetics of the device are still fluid (just like the orientation and multi-size clamp aspects of the design):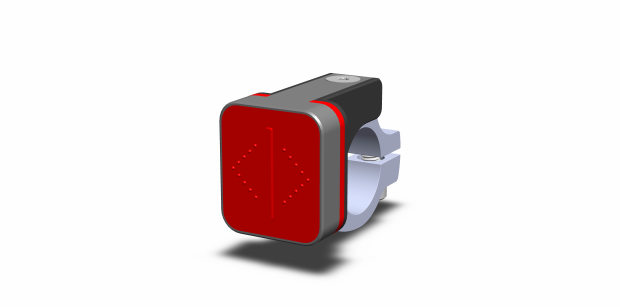 The 2 challenges we are currently facing are:
1. Given the thickness of the Sidekick, pressing the buttons while they are facing upwards isn't as easy. We are currently thinking of pointing the buttons towards the rider (as opposed to pointing upwards). This will lead to a change in our firmware, which is manageable.
2. We prefer using standard off the shelf clamps, but also need to account for bike handle-bar width variation. We are figuring out how to make the clamp adjustable (without building a custom clamp).
Your opinions, if any, on the above would be valuable!
Hardware Design and manufacturing 
We have 5 main circuits (PCBs) in Aster: Main Lights unit, the Front-lights, the Profile lights, Sidekick and the battery pack.
The main lights unit PCB is expected was delayed due to an incident at the factory and will arrive this Friday (July-08). That will be followed by testing and manufacturing. The Front lights unit and Profile lights units have been designed and should be manufactured in July as well.
Sidekick PCB design is being changed to suit the industrial design since the position of the battery and the dimensions of the PCB depend on industrial design. This is likely to be the source of delay for us and will push the Sidekick electronic manufacturing to August (after the design is finalized).
Firmware Design
Firmware is the software the controls the hardware and sits inside the PCB. We are currently architecting the firmware for upgradeability. Upgradeability ensures that we can provide additional features in the future (e.g. crash sensors) without requiring backers to buy new hardware. (This is not a promise of additional features though).
App Design
The App screen design was done before the campaign itself. Apps are built on top of the Firmware. App development requires the firmware to be stable. We are likely to start shipping betas before the app dev. is completed – an app can be delivered instantly while backpacks will take time to reach our Beta backers.
Thank you again and do mail me if you have any questions.
---
July 16
[Update Part-1 of 2]
Hi all,
This is going to be a long update – we are going to give you an overview of the Product development process. This overview will enable us to give specific updates from the next time.
Backpack design and manufacturing
Selection, testing and ordering: (buckles, zippers, and plastic molded parts).
The selection of fabric and trims is complete. In the last three weeks we have been rigorously testing the plastic hardware and trims to ensure that every part stands the test of time. We are also creating accelerated field conditions to get an idea of how the product ages with wear and tear. All the plastic hardware required has passed the tests and we've placed the orders for Beta production quantities.
Fabric and printing: The gradient shaded colour of the backpack is achieved by a technique called sublimation printing. Although this method is usually an extremely resilient method of printing, our print failed in abrasion testing- which means that the color would fade slightly when scratched. We suspect that this is a fabric absorbency issue and to fix this, we are printing first and then coating the fabric with the waterproof PU coating. We should see have a solution for this in a week.
Backpack design tweaks:
The adjustable backpack strap-light: The first iteration which had spiral cable to move the strap-light up and down was sub-optimal, as the cable would stretch down, but wouldn't spring back easily due to the padding in the strap. Design iteration-2 involves manually pulling with a draw-cord to get the perfect placement. We made a mock-up of this, and it tested successfully for 50 pulls. (It's unlikely that you'll adjust this more that 10 times in your bag's life.)
The back- panel of the bag is being reworked- creating a 1″ air-gap to improve ventilation. This is adding approximately 50 -100 grams of weight but gives a better riding experience. The adjustable waist strap: we've reworked the design to easily accommodate this.
---
June 16
Hi,
Thank you all! Good news is that we are on inDemand now so folks can continue to pre-order the Aster! Getting the preferences over the surveys was quite a task, Phew! To those who placed orders as a part of inDemand after May-18, the surveys will go out shortly!
Let me update you on the progress. On the backpack design front, we are currently improving comfort of back-padding (in terms of support and ventilation), evaluating sample mechanisms to improve adjustability of strap light, and fine-tuning the shape of the backpack (to avoid rubbing against certain helmets). We have ordered the trims, which include the plastic hardware and zippers, for the pre-production sample. The pre-production sample is the final sample using the correct fabric and trims. Once the sample is tested and approved, we begin manufacturing the 50 Beta backpacks.
The PCB design (which is the Electronic circuit containing and controlling the lights) for all the lights in the backpack is currently ready and we are ordering the components. The re-design of Sidekick (handlebar unit) has begun – I will share the drawings once we test out the feasibility of the new designs. The redesign's intention is to reduce the width of the unit. For the anti-theft alarm, we are building in a buzzer – currently, we are evaluating multiple buzzer units which can produce the loudest sound without taking up a lot of space – this is happening parallel to the Sidekick redesign.
On the other perks, the ThrillSeeker Solar Backpacks are ready and have started shipping – if you haven't received a tracking number for ThrillSeekers by today, please do write to us at contact@iwearlumos.com.
The T-shirts are also ready and we will start shipping them out as and when we get confirmations on the addresses. Here are a few photos of the Tees!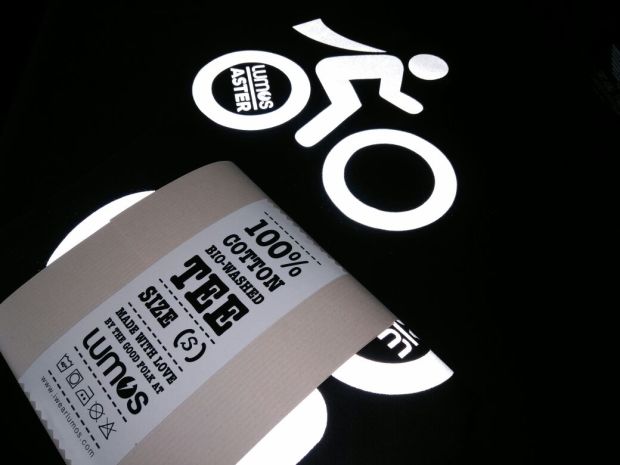 The Cyclist Super-hero Tees (reflecting the camera flash!)
The Cyclist Super-hero Tees (under normal light)
We are once again grateful for your contribution and support in bringing Aster to life!
---
May 16
Hi all,
Firstly, big news – we met and exceeded our goal! Thank you all for your contributions and for your tremendous support. You not only are helping bring a product to life but are also providing a startup with a chance to make it's mark on this world. You will be able to see the entire product development up close and will contribute to it.
Since the conception of Aster till the final hours of campaign, our team has been hard at work. Now,we are happier to have all you supporters on board. Our goal is to deliver to each of you a perfect Aster.
We will send out a survey shortly with size, and color preferences. To backers who have ordered a Thrillseeker backpack as well, we will send out a separate mail confirming your address before we commence shipping. Backers who paid higher shipping cost in the first few days of the campaign, will be refunded the difference within a week of us getting the amount from Indiegogo (should take 15 days).
We are very much thankful to cycling communities, bloggers and journalists worldwide and to all of you who gave us valuable feedback at every stage and help us spread the campaign. The fun has just begun!
We should mention here that Indiegogo has given us fabulous support. This was one of the first few projects to carry Indiegogo-verified stage of project ("Prototype verified") on the campaign. The indiegogo team had verified the working of our prototype before the campaign.
Thank you again for your contribution, and welcome to Aster's journey!
---